Precision Plastic & Metal Machining | Custom Metal Work Malaysia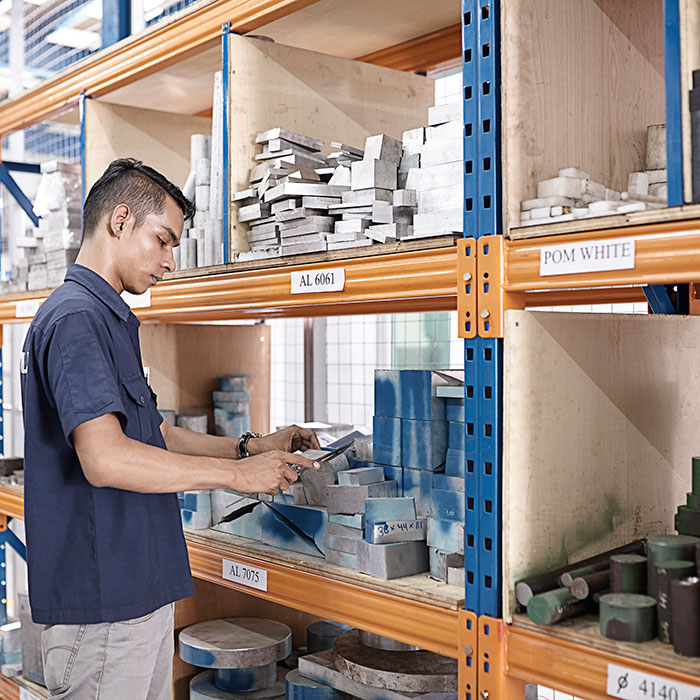 Incorporating the elements of physics, chemistry engineering and material engineering is the most important aspect that Setsu highly emphasizes. The engineers in Setsu have a depth understanding of the nature and properties of each material, allowing us to excel in machining various types of materials.
Our highly skilled and experienced personnel will be in charge of metal work solutions as we want to deliver only top-notch precision metal and plastic machining for you. Every solution is personalized according to the requirement set by our clients.
At Setsu, we provide a huge range of materials available depending on your industrial needs. We offer unrivalled quality and choice of materials including metals, exotic metals, engineering plastics as well as thermosetting. The materials that we often deal with include, but are not limited to the followings:
TYPE
MATERIAL
Metals

Aluminium Alloy (2024, 5 Series, 6061, 7075)
Stainless Steel (SUS416, SUS316, SS300 Series, SS303, SS304, SS430)
Brass
Copper
Bronze

Exotic Metals

Titanium
Carbide
Waspaloy
Nickel Alloy 718 (Inconel)
Stainless Steel 17-4
Monel K500
Stainless Steel 15-5
Harden Steel (4140, 4340, XW-41, 42, DF2)
Carbon Steel

Engineering Plastics

PI, Vespel
PAI, Torlon
PVDF, Kynar
PTFE, Teflon
POM, Acetal
POMALUX, Conductive Acetel
PA, Nylon
PMMA, Acrylic
PVC
ABS

Thermosetting

PUR, Polyurethane
EP, Epoxy
Bakalite
Get In Touch With Us!
Looking for precision CNC machining or custom metal work? Based in Malaysia, Setsu offers excellent engineering solutions across the globe. If you have any inquiries about our products and services, get in touch with our team now to discuss further.
Other than precision metal and plastic machining, you may also check out other solutions like CNC machining parts and heat treatment in Malaysia.